Landscape Architecture
gmr | LA specializes in the design of elegant, functional and constructible environments. Our staff has years of experience in many diverse areas of landscape architectural design. Project experience ranges from residential landscape design to commercial site design, park design, golf resort design, amenity design and site restoration.
We begin each project by asking questions and responding to the presented issues. Our approach to design and project implementation is then based on our client's scope, schedule and site opportunities. We then follow a systematic design process customized for each unique project. Below is a design process for a typical commercial or residential project.
Schematic Design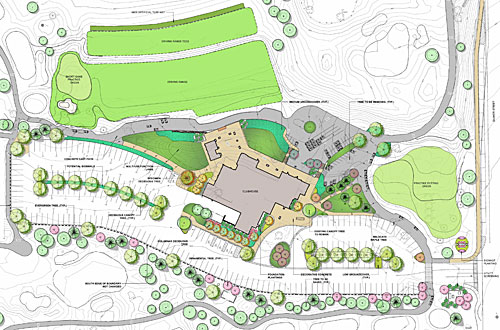 Based on a site survey, this phase of design includes a conceptual 2D schematic design plan. The plan is an illustrative concept rendering of proposed design elements based on client discussions and our site analysis. Dependent upon project size and type, 3D drawings may be provided to convey design intent and visualize the final product. An opinion of probable construction costs is prepared at this stage for overall project budgeting and discussion purposes. Often times, this critical budgeting takes place too late in the design process. gmr | LA provides this pricing so clients may construct their desired project within budget.
Construction Drawings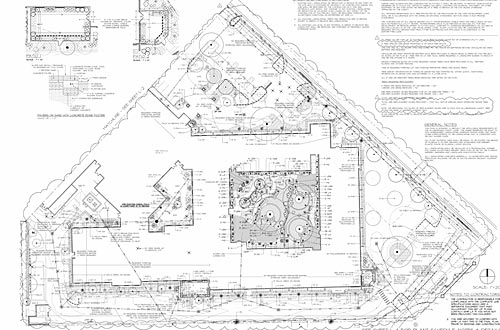 This phase turns the concept design into implementable construction documents to be utilized by bidding contractors. The construction plans will typically include grading/drainage plans, hardscape layout plans, planting plans and associated construction details and specifications. Clients are engaged during this process to select final materials, colors and plants. Upon completion of construction drawings, bid proposals are obtained for project construction and phasing. gmr | LA then only works with select contractors who appreciate detailed design and associated construction.
Permitting and Approval

As each project is unique, permits and approvals can also vary based on the project. For smaller residential projects, minimal permits and approvals may be required. A larger commercial project may require a series of permits and approvals where collaboration is necessary with consulting architects, engineers and surveyors. In either situation, we are experienced in obtaining the necessary approvals for your project prior to construction. gmr | LA has extensive experience in project permitting to save time and headaches during this process.
Construction/Implementation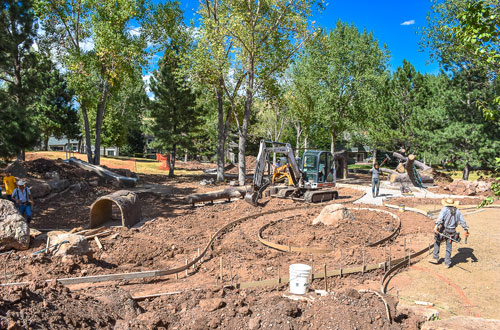 During the bidding process, gmr | LA will save time and costs by reviewing bids, scope of work and project schedule. As site work and construction begin, we will provide periodic site visits to ensure compliance with design intent, plans and specifications. Field design, changes and additions may be provided prior to final layout and installation of all design elements. See Construction Administration for more information on these services.
Landscape Architecture Services Provided:
Pre-Development Budgeting
Site Analysis
Master and Site Specific Planning
Grading and Drainage Design
Hardscape Design
Landscape Design
Enhancement/Renovation Design
Irrigation Design
Construction Detailing
Xeriscape Design